Vuelta a España
Our Vuelta a España KOM Challenge provides a fantastic mix of LIVE race-viewing and challenging rides on the legendary routes and climbs of northern Spain. Witness 6 key stages including the summit finishes on the Tourmalet and the Angliru. Revel in 3 remarkable days in La Rioja, Spain's most famous wine region, where we'll witness 3 spectacular stages of La Vuelta and maybe indulge in a few glasses of the local drink…
Why Choose Thomson?
FULLY SUPPORTED RIDES
All of our rides are fully supported. From 20km to 130km, the routes all take in the famous climbs of the Vuelta – fully guided with support from our vans.
As usual, Thomson has delivered an amazing bike trip experience. Loved the rides, the food and the wine. The best part of this and any ...
William Lloyd LaRone, Canada — 2017
Amazing trip! Spectacular challenging routes. Wonderful experience of the Vuelta. Exceptional ride staff. Excellent accommodations. Good food. Well-organized. I am a better cyclist from the ...
Richard Lowinger, USA — 2016
Wonderful focus on the ride above all else and the other aspects being very well prepared as well.
Lawrence Pemble, USA — 2016
See more reviews
---
The perfect mix of live race-viewing and challenging and rewarding rides on the legendary routes and climbs of the Vuelta a España.
---
Stage Detail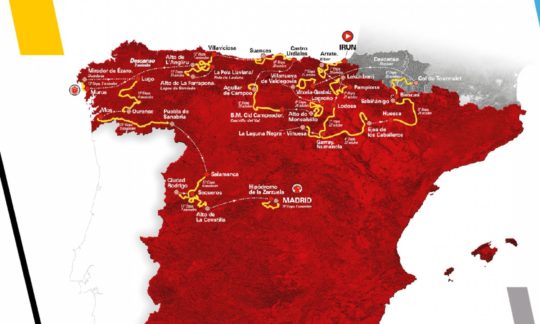 Stage 5
Huesca > Sabiñánigo
---
---
---
Stage 5
Huesca > Sabiñánigo
Stage 6
Biescas > Col du Tourmalet
---
---
---
Stage 6
Biescas > Col du Tourmalet
Stage 7
Vitoria-Gasteiz > Villanueva de Valdegovia
---
---
---
Stage 7
Vitoria-Gasteiz > Villanueva de Valdegovia
Stage 8
Logroño > Alto de Moncalvillo
---
---
---
Stage 8
Logroño > Alto de Moncalvillo
Stage 9
Castrillo del Val > Aguilar de Campoo
---
---
---
Stage 9
Castrillo del Val > Aguilar de Campoo
Stage 10
Castro Urdiales > Suances
---
---
---
Stage 10
Castro Urdiales > Suances
Stage 11
Villaviciosa > Alto de La Farrapona
---
---
---
Stage 11
Villaviciosa > Alto de La Farrapona
Stage 12
Pola de Laviana > Alto de l'Angliru
---
---
---
Stage 12
Pola de Laviana > Alto de l'Angliru
See all stages
Show less