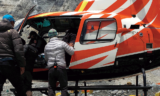 Global Rescue
Peace of Mind with Travel Protection Services
Global Rescue provide the finest integrated medical, security, travel risk and crisis management services available anywhere.
Global Rescue offers a Travel Membership that provides access to medical, security, advisory, intelligence, and evacuation services for members who require inpatient hospitalization while traveling more than 100 miles from home. Members enroll with a membership fee upfront, and all costs associated with advisory or evacuation services from the point of injury or illness are included. (Medical evacuations are provided to the home country hospital of choice and security evacuations are provided to the nearest safe area).
Without a membership, an emergency evacuation could cost over $100,000. More than one million members trust Global Rescue to get them home safely when the unexpected happens. Learn more.
Additionally, for riders looking for Travel Insurance to cover trip cancellation, trip interruption, and emergency medical expenses, consider enrolling in the IMG Signature Travel Insurance package. Travel insurance is the perfect add-on to a Global Rescue membership, providing coverage against a variety of unforeseen expenses while you're traveling, giving you the added comfort of knowing the value of your trip is protected in case you need it. Learn more.
Thomson Bike Tours recommends all travellers consider enrolling in a Global Rescue Travel Membership or IMG Signature Travel Insurance. For more information on either product please email MemberServices@globalrescue.com
---