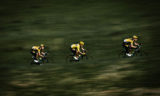 bikeflights
Ship your bike with confidence thanks to Bikeflights.com
BikeFlights.com is a bicycle shipping service. You get fast delivery, great prices and excellent service with every shipment per our Best Way Guarantee. We make it easy for you to ship your bike, wheels and gear with confidence, whether it's for your next trip, or it's headed to its new owner after you've sold it online.
---
Fast delivery, Great Prices and Excellent Service
Select your delivery speed to suit your busy schedule. We make it easy to book, track and manage your shipments. Tap into our group buying power. You get great rates for shipping road, gravel, mountain, touring, tandem, triathlon, track, fat, BMX, kids and electric bikes. Enjoy support from fellow cyclists. We work directly with an exclusive carrier global operations team so your bike, wheels and gear deliver on time.

Our knowledgeable Support Team takes care of essential and time-consuming tasks for individuals, events, online sellers and other cycling industry businesses. We combine the best bike shipping expertise and carrier services into one smooth experience. We believe in giving back to the sport we love through our Buck Up for Bikes Program. Through support of various non-profit cycling groups, we work toward our mission of getting more people on bikes.