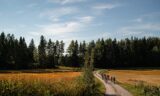 All About The Steamboat
---
All About The Steamboat
SBT GRVL has quickly built a reputation as a world class gravel racing event and one that is so much more than 'just a race'. We're beyond excited to be powering SBT GRVL's very own four day trip this September.
Known as PRT TRVL, this wonderful trip is an opportunity to join a small group for an all-inclusive gravel tour packed with 4 days of incredible cycling, dining, and sightseeing. Based out of the Monchique Resort & Spa in the Algarve region, a true cyclist's haven in the middle of the mountains - striking that perfect balance between the luxury of a five-star hotel and the environmental sustainability of an eco-lodge.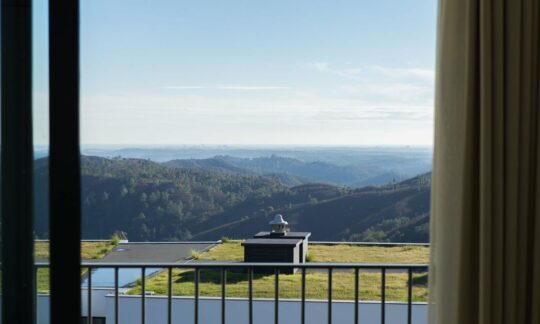 Famous for it's sun, long sandy beaches, and as the launching point for 15th century Portuguese expeditions around the globe, the Algarve will be the base for all things GRVL as some of the world's finest unpaved terrain in the mountains are explored. From sweeping ocean vistas to remote hillsides, you can expect trails, roads, culture, and cuisine that define this picturesque riding paradise.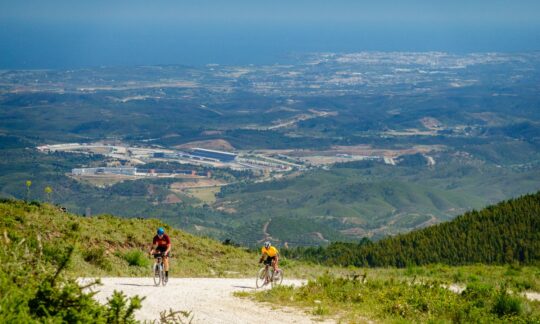 Wednesday, September 20th: Bem vindo a Portugal!
Airport pickup in Lisbon with transportation to Praia do Canal.

Your trip starts at the Lisbon Airport where our staff will meet you before the transfer to your hotel, the Praia do Canal, surrounded by rolling hills, expansive infinity pool and views of gravel and the Atlantic Ocean.

After lunch, orientation meeting and bike build-up, you'll head out for your first ride, a magnificent 17 mile shakeout ride to the coast to experience one of the most stunning views you'll ever witness from the saddle. Seriously. We don't want to overhype it, but it's that good.

Thursday, September 21st: Ready, Set, GRVL!
Get fueled for the day with a large traditional breakfast featuring a buffet of local fruit, meats, cheeses and make sure to apply plenty on sunscreen, kit up, and get ready to explore! Today we're going full Don Quixote.

Today's approximately 50 mile route heads inland, through Algarve's famous wind turbines, across rolling hills, through olive groves, past old vineyards, and underneath the canopy of eucalyptus forests. Our halfway point takes us near the famous Algarve Motorsports Park, home to F1 and Moto GP events. On the way back we'll work our way through gravel roads surrounded by pine and cedar groves and into the lobby of our home base for a dip in the pool to cool off before dinner.

A support vehicle will be on hand at all times to provide a lift to riders who would like a chance to rest their legs or only ride specific section of the route.

Following the ride, TRVL participants will be transported back to the hotel to clean up and unwine(d) with a local glass of Castelão or Verdelho before dinner.

Dinner will feature some of southern Portugal's finest cuisine in a region known for its fresh seafood and local fruits and vegetables.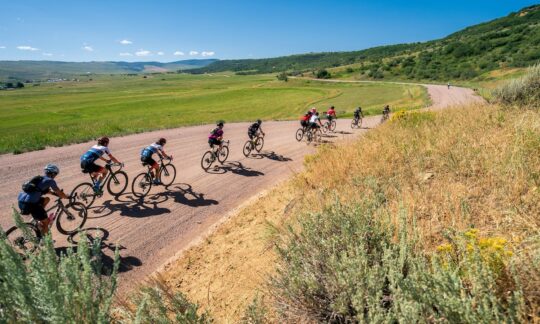 Friday, September 22nd: One If By Land, Two If By Sea
After breakfast we'll once again head directly out of the hotel and straight onto the gravel for our point-to-point "queen stage" of the trip, and quite possibly one of the most magnificent and most beautiful days you'll experience on two wheels.

Friday's approximately 57 mile route heads south and hugs the coastal cliffs around the seaside village of Carrapateira then turns inland through the forest, fields and windmills, before once again heading back to the Atlantic on empty rural gravel roads that intersect empty beaches and dramatic coastal coves. Our final destination for the day is the ancient town of Sagres at the foot of the walled fortress that served as the launching point for Sir Frances Drake and countless other naval journeys.

After arrival guests will shower and change into dinner clothes at a local hotel, grab a drink, catch the sunset over the Atlantic and enjoy a relaxing dinner followed by van transpiration back to Praia do Canal.
Saturday, September 23rd: One Last Hurrah
After breakfast, guests will have the option to participate in one last ride, relax by the pool, or both. With a route of approximately 20 miles, we'll roll from the hotel and shake the legs out one more time at a relaxed pace and explore the village of Aljezur before returning to the hotel with plenty of time to shower, pack, and journey back to Lisbon for your Saturday evening or Sunday morning departure.