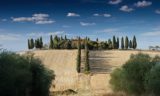 Tuscany, Cycling Romance
---
Tuscany, Cycling Romance
Cycling is a sport that thrives on romance; storied mountains, legendary races and epic landscapes conjure hazy dreams of eating up the miles in the baking sun. Nowhere is this more true than the cycling Mecca of Tuscany, with it's rolling hills, white roads and rows of cypress trees.
MODERN AND ANCIENT
Tuscany is at once both modern and ancient, a region that embraces history whilst creating the new. The famous race Strade Bianche gives the illusion of a race of a hundred year pedigree, whilst being the most modern of classics – appearing for the first time only in 2007. Created initially as the Gran Fondo, L'Eroica, an event that celebrated a golden era of cycling, resplendent with elegant steel bikes, wool jerseys and stylish sunglasses. The race of the white roads has become a firm favourite on the calendar, winding over the unpaved roads of Tuscany, taking in the distinctly Italian scenery and creating a trademark cloud of dust that leaves the riders coated by the finish. This very modern race captures the essence of cycling in the region.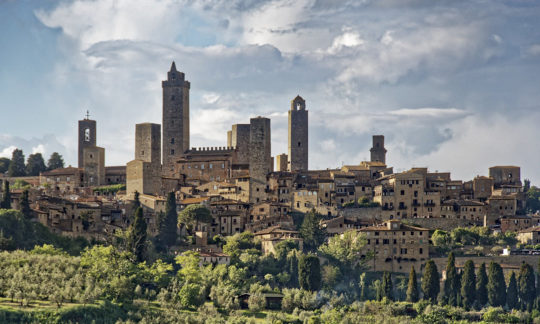 EPIC LANDSCAPES
The landscape is recognisably unique, once the scene of medieval pilgrimage, Roman grain silos and Napoleonic art raids. Stare into the distance on any hilltop and you could still be in any of those times, so untouched is the scene. These fertile rolling hills lend themselves to vineyards, olive groves and wheat fields, which in turn produce the finest of wines, the most delicious of foods and welcoming of local hospitality. The hilltop villages that sit proudly on these mounts make for stunning waymarks, joined by snaking roads that beg to be ridden. Cycling in Tuscany is as close to perfect as you could imagine.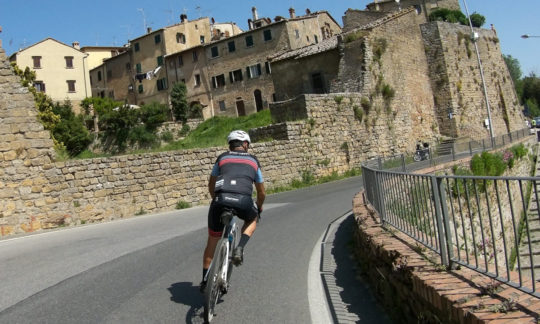 TOUGH ROAD RIDING
We mustn't neglect to share Tuscany's cruel streak, of course. Don't expect cycling here to be all cruising in the sunshine, the region has a fine pedigree in making the professionals suffer. A common fighting ground for the Giro d'Italia, Tuscany has more than it's fair share of tough climbs. You maybe familiar the photograph of Fiorenzo Magni, battling a Giro climb with a broken clavicle, biting down on an inner tube to compensate for the pain. The world famous wine regions of Montelcino and Chianti boast stuff, punchy cat 2 and 3 climbs whilst the south of the region has it's own Hors Category climb in Monte Amiata. You can expect a challenge, but the rewards are great.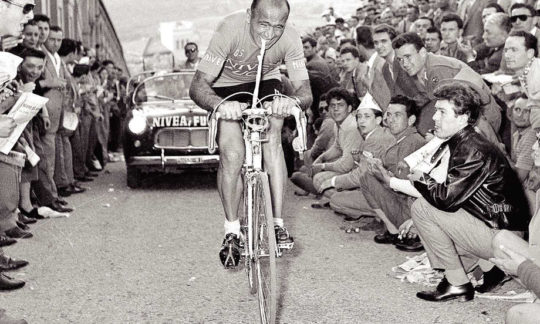 PERFECT GRAVEL
It should come as little surprise that Tuscany offers a wonderful playground for gravel cycling. Whilst there are few very technical trails, unpaved roads are plentiful and offer intriguing routes that wind through vineyards and up to medieval towns. Punchy climbs are a feature of the gravel, so a big cassette and limbered quads are required. The fast flowing sections of dirt roads come thick and fast and offer an experience hard to match anywhere else. With the greatest gelato on offer as a prize, who could fail to enjoy themselves on the Tuscan gravel.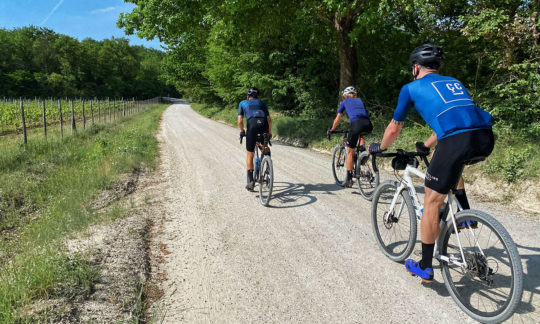 TWO TRIPS
Famous for it's hilltop towns, Chianti wine, cypress trees, great food and Italian style, Tuscany is also home to the best road and gravel in a single region. We have two trips, one road and one gravel, to this romantic region. Don't miss out on this incredible opportunity to experience the very best of Italy.