Thomson Spectator Tours. It's Not All About the Riding
---
You might not know it but Thomson Bike Tours have been running highly successful Spectator-Only trips to the grand tours for almost a decade now.
Our Spectator tours are designed to get you on the inside of the world's major cycling events, with the Tour de France taking pride of place.  All of our spectator tours are designed by our Superstar tour guide, Jacinta.  Jacinta has been taking people to grand tours for over 8 years and counts Phil Liggett, Jens Voigt, Paul Sherwen and Bob Roll among her colleagues.  She's also built up excellent relationships with many of the Directeur Sportifs of the pro-teams.
Traveling in with Jacinta is a unique experience, and much of the enjoyment comes from the team spirit she instills in the group and the fun you have together.  Some guests are avid fans; some have a basic knowledge; and some have no prior cycling knowledge at all.  Thats OK. By the end of the tour, everyone is hooked!
---
Jacinta @Jacintmac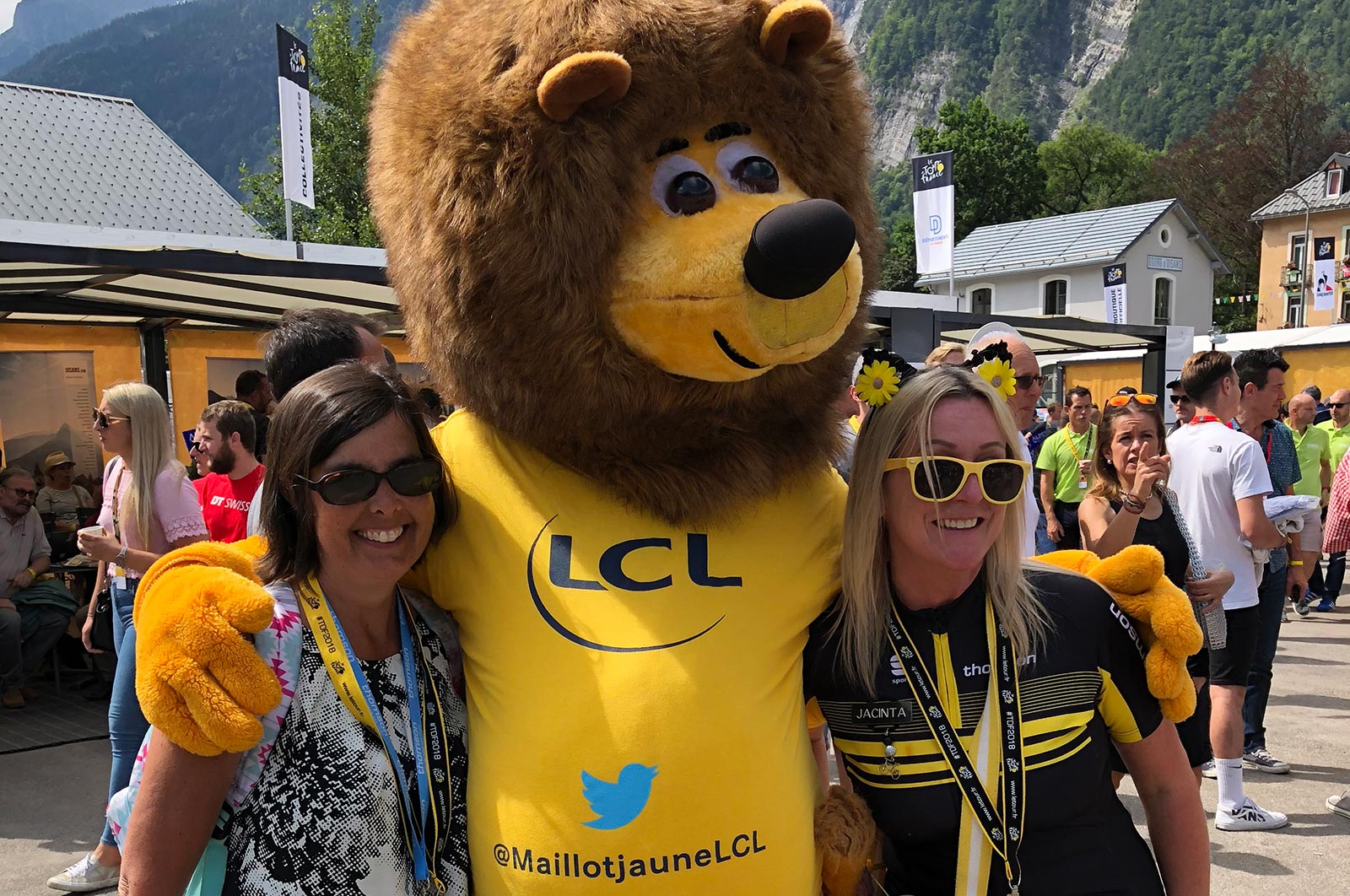 All of our spectator tours are designed by Jacinta. Jacinta is British and has worked in hospitality for 28 years in Spain, Italy & France. She has guided Grand Tours for years and is known and loved by everyone on the pro-scene. Intricate planning, a map and roadbook rolled into one, a huge knowledge of how the tours work, insider tips, a knack to make things happen, a great sense of fun and humor, she guarantees to make sure your tour exceeds expectations.
---
So What does VIP Access mean exactly?
A Thomson Spectator tour is built around several key race-access points:
VIP Departure Village & Team Paddock
On the Grand Tour's, we gain entrance into the Departure Village, where all the reporters, sponsors and tour staff congregate pre-race. On the Tour de France, expect to bump into Christian Prudhomme and past race winners, as you sample local delights and snacks. The teams arrive a couple of hours before the start of the race as the crowds gather behind the barriers; while you are free to mingle with exclusive access. You can see the team buses arrive, mix with the press outside the coaches, watch the cyclists warm-up and sign-in and grab some photos and autographs!
VIP Finishline
Stage and race finishes are usually highly complex to access. We avoid the crowds and enjoy the VIP area, yards from the finish line. Still being immersed in the electric atmosphere but viewing in comfort, sipping complimentary drinks & eating nibbles, with a roadside view and a VIP viewing platform! Often there will be Private tables, outdoor seating, and tiered viewing platforms, meaning you can spectate in style. Thomson Bike Tours are well known to the technical teams and on occasion, Jacinta arranges tours of the technical village which adjoins the VIP area. This is where we have a chance to see Phil Liggett, Paul Sherwen and Jens Voigt.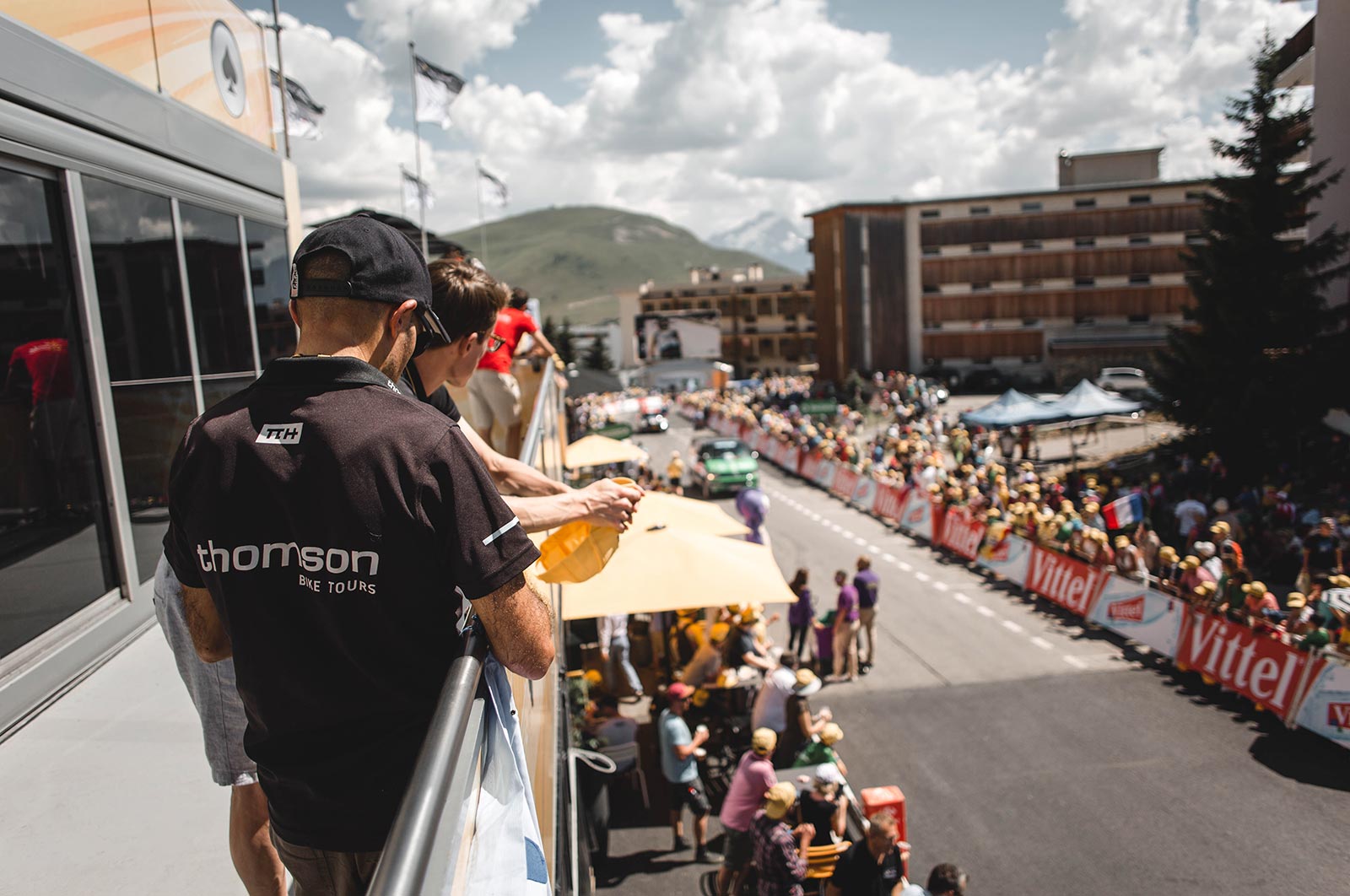 The Relais Etape or mid-race VIP viewing point
The Relais Etape is a Tour de France-specific VIP area and is set up on the course, often within the final kilometers. It's a private VIP viewing hospitality area, complete with an onsite restaurant. Thomson Spectators have their own tables for the duration the stage. There's a 3- course meal, free bar, live coverage of the race, complimentary photos, private roadside viewing as the race passes by and running commentary from ex Pro cyclists.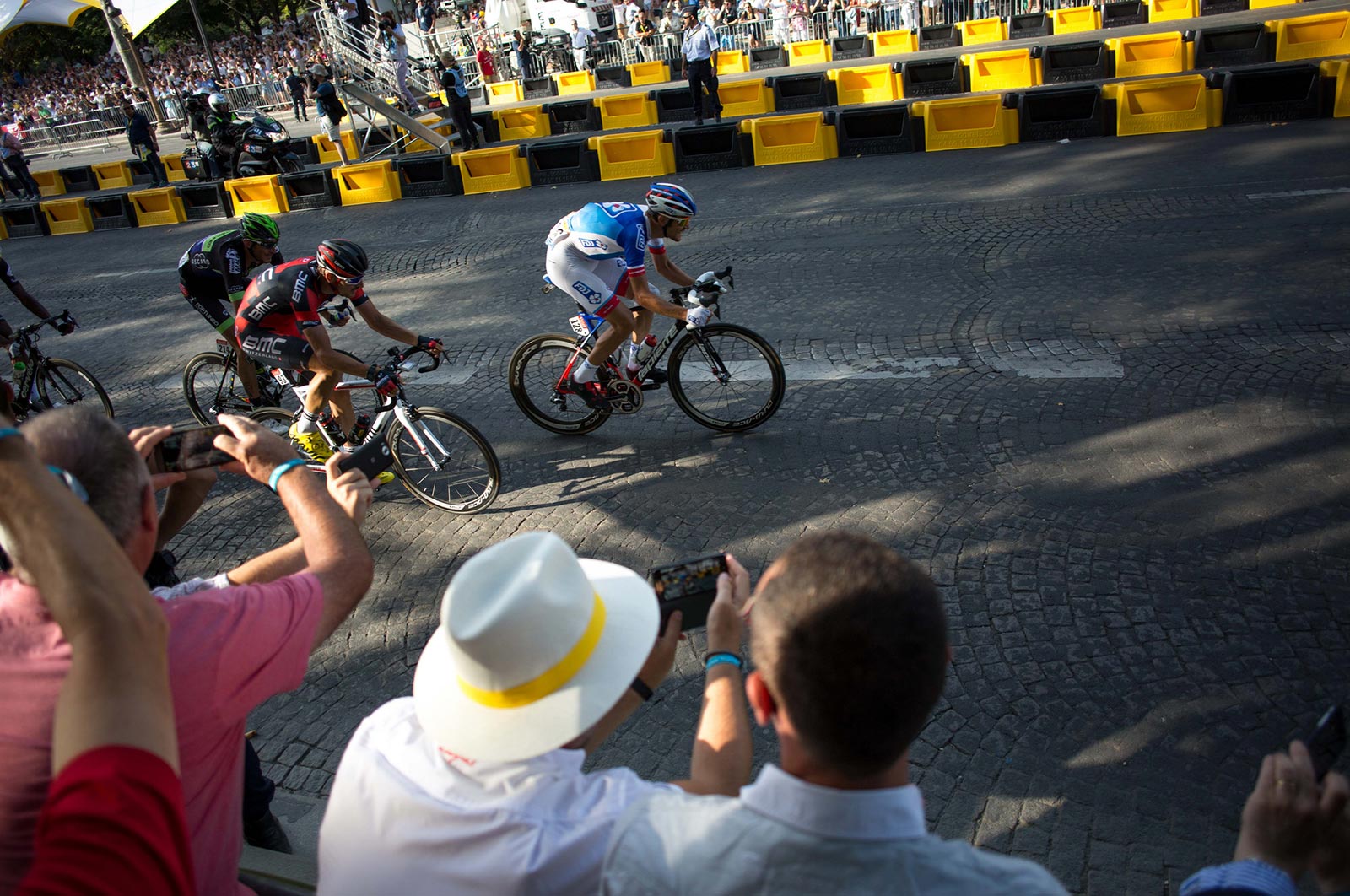 Own race-viewing days
Finally, there are days on each trip where you can go off on your own and experience the racing with the crowds of local fans.  It's an amazing way to sample the true spirit of cycling fandom.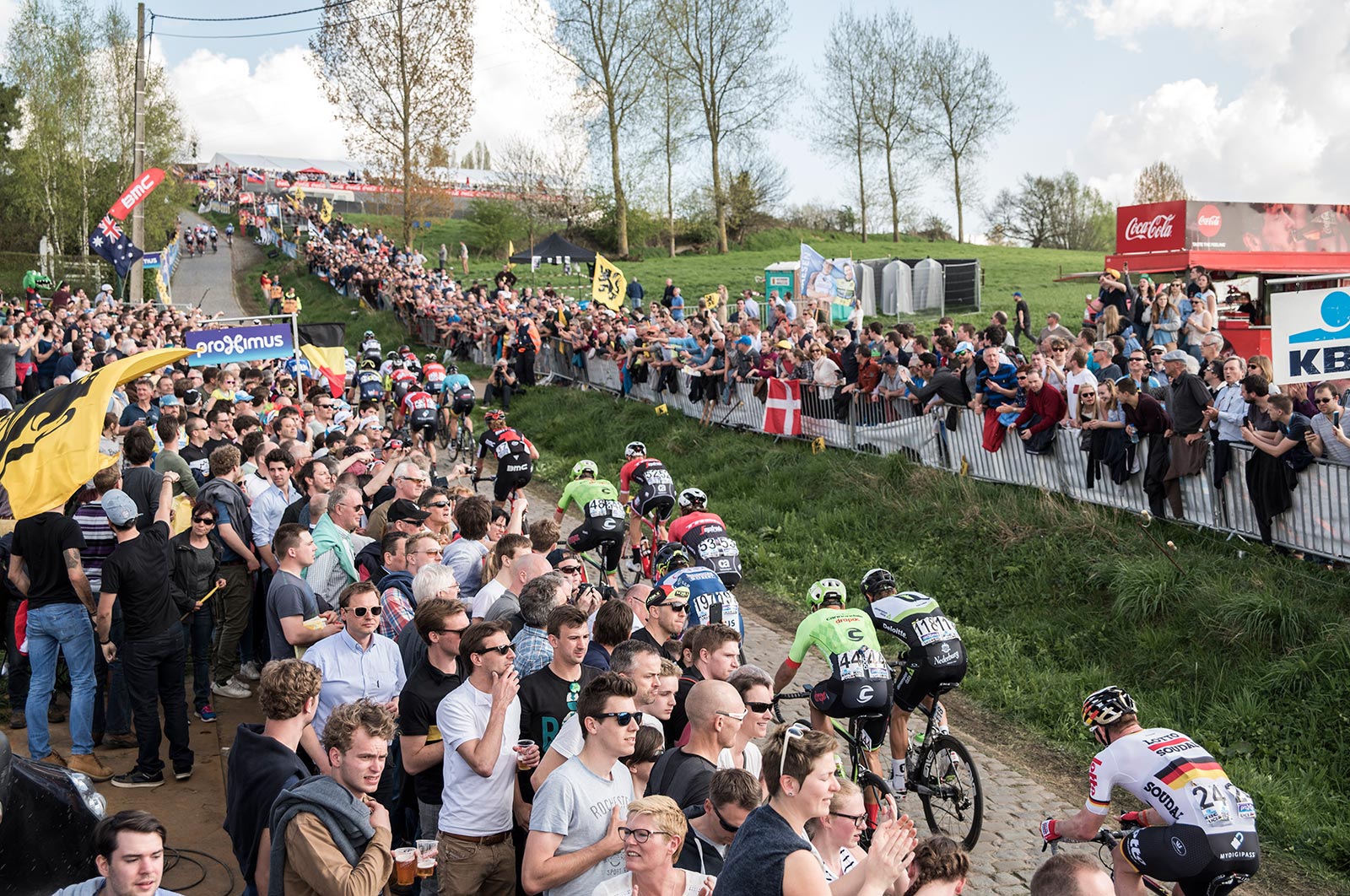 Meeting the Pro Teams and race celebrities
We have un-paralleled access to the races and you have amazing opportunities to meet cyclists. Some of our spectator tours include a team meet and some include VIP access to the departure village. All you have to do is decide WHO you want to meet and make it your mission on these occasions. We can't promise you'll see the 'one' – but Jacinta is an expert in making things happen!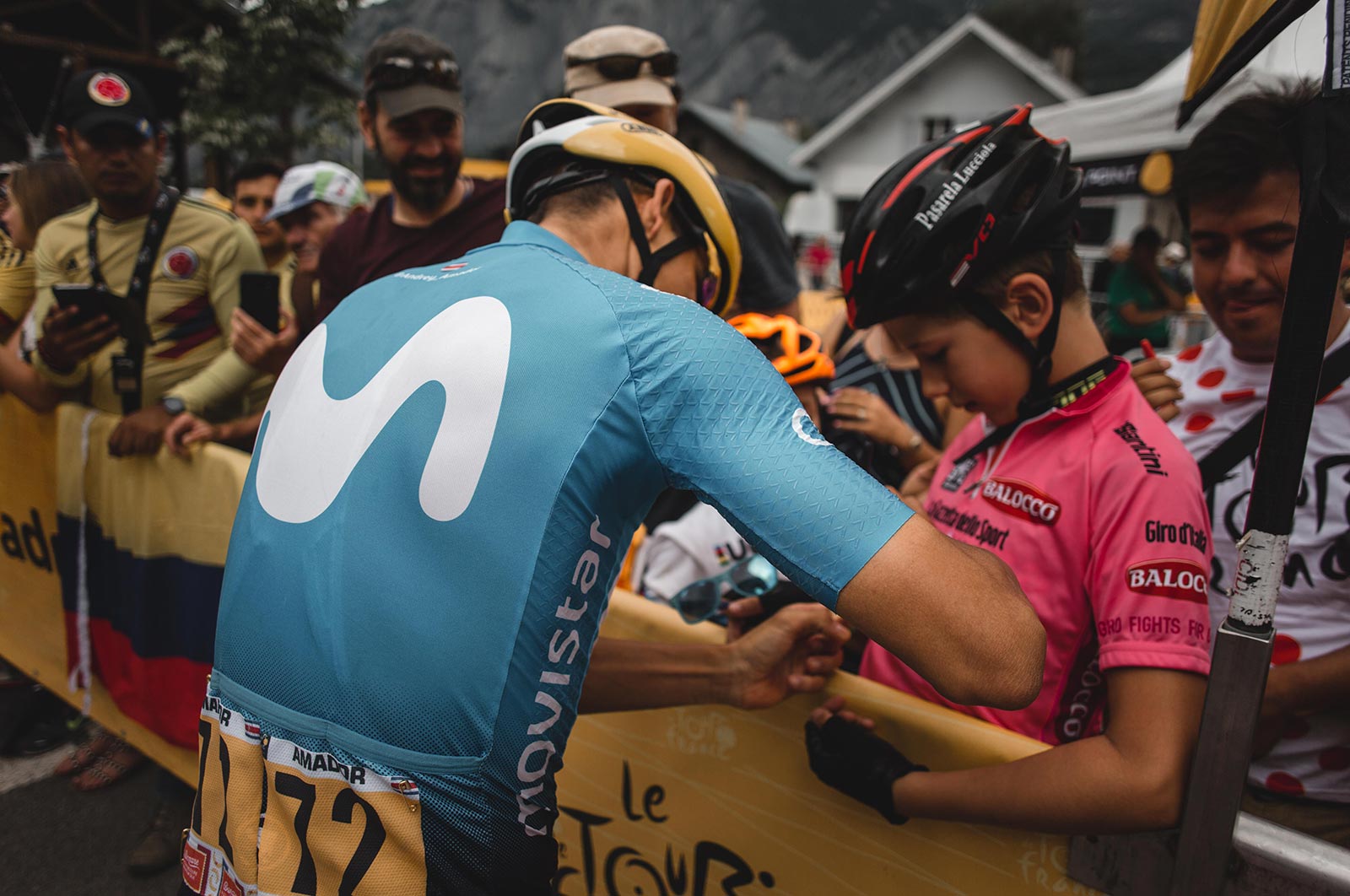 Don't take our word for it …
The ability to customize our tour was amazing. Jacinta made it clear that the only priority was for us to enjoy the tour, as opposed to other group tours that feel impersonal and cookie cutter. The insider information she provided and the access we had was incredible.
Mike Borsare. Tour de France.
As a solo traveler this was an exceptional way to see the tour in a very friendly, family-like group. Highly recommended. I can't thank you enough for my trip of a lifetime!
Kathy Emerald. Tour de France.
The best way to experience a Grand Tour as a spectator. Everything is taken care of, all you have to do is show up! Excellent accommodations, good food and extras like team visits and time for non-cycling sightseeing make the trip a good value. Thomson's connections get you into VIP areas, private viewing tents on the cols, opportunities to meet cyclists and tv personalities, and Jacinta works 24/7 to make sure your experience is memorable. Expect non-stop laughter and memories to last a lifetime.
Gloria & Gary. Tour de France / Giro d'Italia.
What I thought would just be "another trip," (although to my favorite country) turned out to be one of our all-time best trips! TBT is 100% professional and went above and beyond our expectations. We literally got to see all the many different aspects of the tour and enjoyed bonding with our little group. Jacinta raised the trip to a whole new level of fun; while giving us lots of TDF insider information as well as a sight-seeing facts. We are definitely planning a return trip!
The Christies. Tour de France.
If you want a cycling SPECTATOR life-changing time, join Jacinta on Thomson Spectator Tours. Jacinta goes out of her way to provide you with access to the cyclists/managers/commentators of your choice. It doesn't matter how young or old you are, you will laugh your way from start of your tour to the finish. You will not want to leave to go home.
Wendy Superfan. Vuelta a España.
If you've got this far, then you'll be interested to find out where we run tours to …
April 2019
Spring Classics – Tour of Flanders, the Scheldeprijs & Paris-Roubaix [View Trip Details]
May 2019
AMGEN Tour of California [View Trip Details]
July 2019
Tour de France – Le Grand Depart [View Trip Details]
Tour de France – Pyrenees Stages [View Trip Details]
Tour de France – Alps Stages & Paris [View Trip Details]
September 2019
Vuelta a España – The Key Last Week & Madrid [View Trip Details]
UCI Road World Championships in Yorkshire (UK) [View Trip Details]