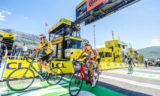 Road or e-Bike – You Choose
---
Road or e-Bike – You Choose
The greatest Tour de France experience is open to all. Ride across the finish line on a road bike or an e-bike.
FEEL THE POWER WITH E-BIKE RENTAL
Flatten the hills and laugh at headwinds. Our E-BIKE trips offer the thrill of the Tour de France to cyclists of all abilities. Our dedicated crew of e-bike mechanics and specialists provide professional support before, during and after the ride. If you want to ride an e-bike, but a friend or partner rides an analog bike, you would choose the e-bike trip. Road bikes are available to rent, or you can bring your own, on all our e-bike trips. Rides are similar in distance and difficulty level to the 'Performance' route on our road bike trips.
THREE FULLY SUPPORTED DAILY RIDES
On our road bike trips we offer three fully supported rides each day - from 20km to 175km (12 miles to 110 miles). No matter your fitness level, our extensive ride programme has you covered. Perfect for couples who love to ride but have different fitness levels.
WHY SEPARATE TRIPS?
We take e-bikes seriously, which means giving them the extra attention they require. To create the most successful trip possible, our e-bike trips have been designed specifically with e-bikes in mind. These machines need specific support; from the vans that transport them to the e-bike mechanics and tools that keep them running in perfect condition. Even the hotels have to be selected carefully to be able to cater for storage and charging.
Road bike or E-Bike, you choose!