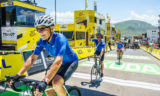 25, 50 or 75+ miles – You Choose
---
25, 50 or 75+ miles – You Choose
No matter your fitness level, we have a ride programme for you. Perfect for groups with different fitness levels.
We offer three fully supported rides each day 20 miles to 75+ miles. No matter your fitness level, our extensive ride programme has you covered. Perfect for couples who love to ride but have different fitness levels. Choose the Sport programme when the day looks too tough, choose Epic when you want a 'no holds barred' challenge. For everything else, there's the Performance group. The perfect mix of challenging routes that suit most riders.

Our world class support enables dedicated cyclists to focus on the ride and conquer their ambitions. With a 1:3 staff to guest ratio we can promise our guests all the attention they need to triumph in their own accomplishments. Our professional guides, mechanics and support van drivers are the envy of the mountain.
Road bike or E-Bike, you choose!