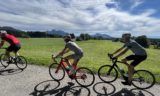 Who is an e-Bike trip for?
---
Who is an e-Bike trip for?
There are many misconceptions about e-bikes, especially in our world of avid cyclists. Developments in equipment and the way we operate trips mean we can open up the greatest roads in cycling to people of all abilities.
Over the past few years, the fastest growth area in cycling has been in e-bikes – huge strides have been made to make bikes more accessible, reliable and enjoyable to ride. For urban mobility, and the sake of the planet, e-bikes make so much sense; as a method of transport, the bike has always been a cheaper, convenient and healthy alternative to driving.

In sport and for recreation, e-bikes have been increasing the fun for MTBers for a while. In a discipline where going downhill is often the entire purpose, some assistance in going up is a no-brainer. We've seen thrilling e-MTB races, including Tom Pidcock's World Championship win and the Giro-E, raced on the same roads before each Giro d'Italia stage.

In short, e-bikes are a growing reality in cycling of all kinds. From nipping about town to zipping up a mountain, e-bikes are here to enable everyone to enjoy the benefits of cycling. We have been running trips with e-bikes for a little while now, seeing first hand the joy they bring for a huge cross section of cyclists. So we wanted to explain just who e-bikes are for and what an e-bike trip entails.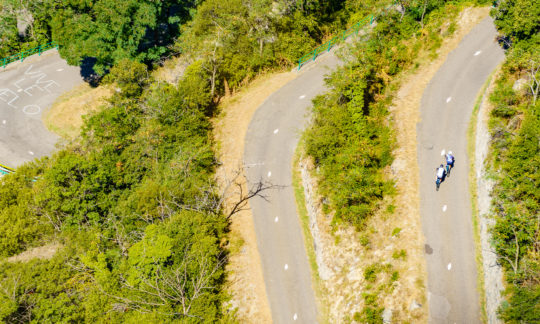 E-BIKES EXPLAINED
There are many misconceptions about e-bikes, especially in our world of avid cyclists. Developments in equipment and the way we operate trips mean we can open up the greatest roads in cycling to people of all abilities. There should be no stigma in an e-bike, these machines look great, ride fantastically and open opportunity to experience the pinnacle of cycling.

The people on our trips ride for all sorts of reasons, have a broad range of fitness levels and experience and set different goals. What unifies the groups is a passion for cycling, exploration and, in the case of the Race Trips, the thrill of the World Tour. E-bikes are an opportunity for an even more diverse peloton of enthusiasts to join us — maybe you, or someone you know, is an e-cyclist in waiting and you don't even realise.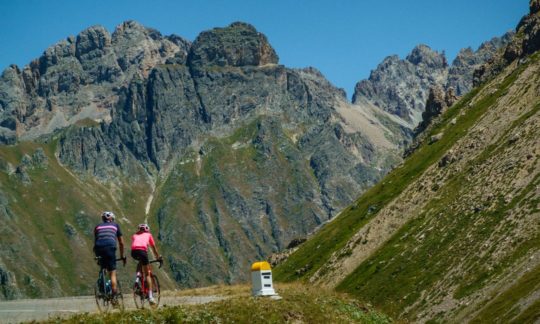 Fitness Anxiety is Holding Me Back
For a lot of people, the biggest worry about cycling, and in particular a cycling trip to the mountains of Europe, is fitness. No matter how much you try to stay in shape, the thought of an epic ride, day after day, is too daunting. Maybe you don't enjoy going uphill so much, but the descents are a thrill. Not everyone wants to push themselves to the edge, but they still enjoy riding with friends or a partner.

E-bikes are made for this – that little hand on the back, like a tailwind. It just takes the pressure off, flattens the hills and extends your personal range. You're still cycling, it's just a wee bit easier!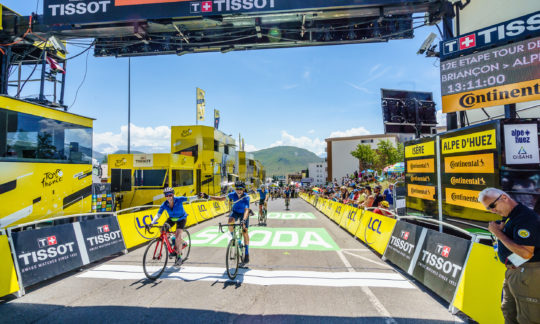 Growing Older and No Less Keen
When you've been a fit, enthusiastic cyclist for a long time it's tough to accept the inevitable drop in form. What doesn't change is the passion for your hobby, it's just that you can't hit those old levels. You still have the same circle of riding buddies, the same ambitions and the unquenching thirst for cycling.

The assistance provided by an e-bike is enough to bridge that gap between your old form and that of your friends, or simply the pace you expect in your head. An e-bike allows you to continue cycling as you always have before, safe in the knowledge you won't slow anyone down.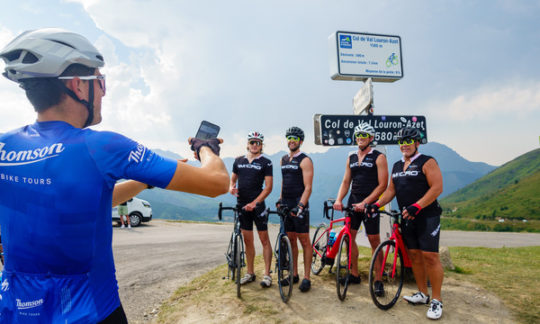 Quite often we speak to cyclists who have been off the bike for an extended period, maybe following injury or simply because life got in the way. Much like the previous examples, there is an anxiety about fitness levels or recurrence of injury. The fun and excitement of cycling is still a big draw, but worries remain.

E-bikes allow you to get back into cycling at your own pace and feel secure. By giving you some extra free watts when it matters, an e-bike feels like drafting, giving you that extra boost when you need it. With range extenders and spare batteries in the van, there is always a safety net when you need it.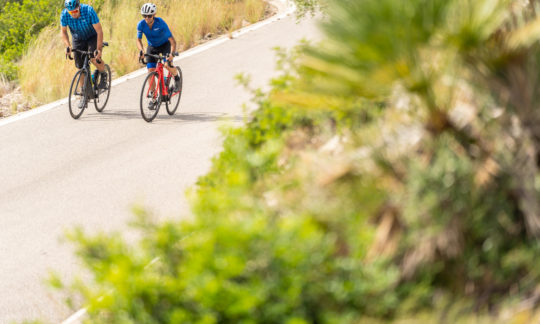 Being Active Means Having Fun
For many people, an active lifestyle and interest in sport is purely for fun. These are the people that relish winding down hills and cruising along the flats, taking it all in. They may not be regular, committed riders but they want to maximise the enjoyment when they do. Sometimes these are the partners or family members of a committed cyclist. They're keen, just not obsessive!

An e-bike will do the work on the mountains, but let you carve the corners on a descent in the tyre-tracks of the World Tour pros who you'll cheer on from the same roadside.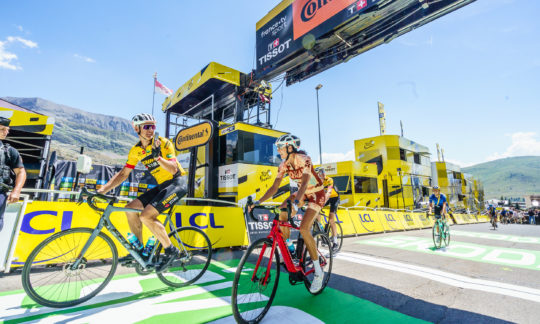 It's All About The Family
The realism for many of us is that family comes first. When you have a family, time is often a luxury and one that can't be given to extensive training programmes ahead of a trip. On the trip itself you'll spend all day on the bike and be exhausted in the evening – no fun for the waiting family!

You can choose to ride an e-bike instead, keeping you fresh as a daisy in the evenings or share the ride with the family – the more the merrier! Our Tour de France Trips by e-Bike offer a full itinerary for non-riders, which means your family won't be stuck waiting whilst you ride. Race viewing, site seeing, cave tours, trekking.. they'll be more exhausted than you!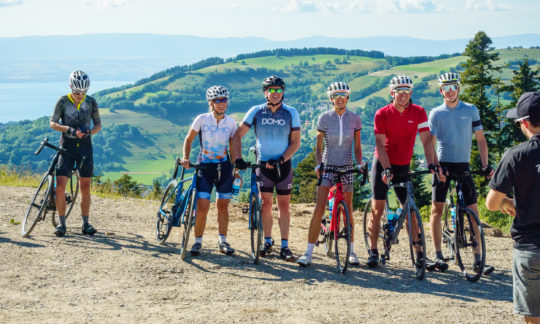 The key take out here is that e-bikes are a welcome part of our peloton, enabling riders of all kinds to enjoy the best roads in cycling. We run e-bike specific trips to the Tour de France, which allows us to support you effectively. If you want to ride an e-bike, but a friend or partner rides an analog bike, you would choose the e-bike trip. Road bikes are available to rent, or you can bring your own, on all our e-bike trips. Rides are similar in distance and difficulty level to the 'Performance' route on our road bike trips.
WHY SEPARATE TRIPS?
We take e-bikes seriously, which means giving them the extra attention they require. To create the most successful trip possible, our e-bike trips have been designed specifically with e-bikes in mind. These machines need specific support; from the vans that transport them to the e-bike mechanics and tools that keep them running in perfect condition. Even the hotels have to be selected carefully to be able to cater for storage and charging.