The Evolution of Cycling Shoes
"You can tell a gentleman by his shoes", so the old saying goes — a marker of social standing, or class initially and later of care and perhaps style.
---
The Evolution of Cycling Shoes
In a sport where your feet don't touch the ground, shoes have played an oddly conspicuous part in the evolution of cycling. We are blessed with almost infinite choice in cycling shoes today, so how did we get to this point?
The club run will see every combination of colour and pattern under the sun from a myriad of brands. You can choose how to tighten your shoe, the material from which the uppers are made, how stiff your sole is and which method you use to clip in. More than ever you can tell a cyclist by their shoes, but it wasn't always this way.

In cycling's infancy shoes were shoes. Simple. Even other sports shoes were little more than slightly modified Oxfords or Brogues. In England, in the 19th century, footballers (soccer players), would wear heavy boots with steel toe caps adorned with rudimentary metal studs to cope with the mud. They would weigh around half a kilo and double this when it rained. Which was all of the time.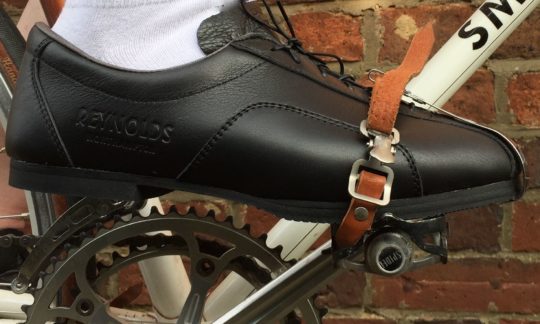 Evolution of sportswear was a slow process, it wasn't until the 1940s that cycling specific footwear was readily available. R.E.W. Reynolds established in 1921, initially making bicycle frames, later diversified into making leather cycling shoes shortly before World War II. The first shoes featured a lightweight supple leather upper and a sole with steel fluted shank to allow efficient pedal action without sole flex. They were also designed specifically for use with toeclips. The company still makes that shoe today, alongside other formal cycling shoes.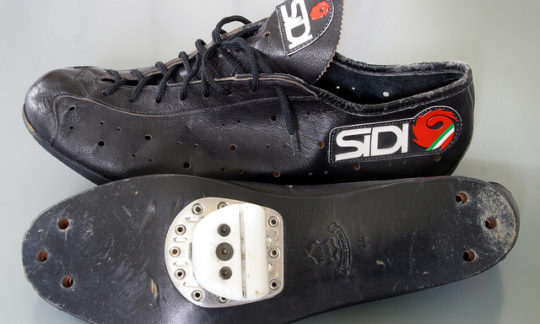 The 1950 and 1960s saw incremental changes to shoe design including leather panels stitched to the front and side to avoid toe-clips and straps cutting in. Some of the shoes from that era wouldn't look out of place today with drilled uppers to create a lighter shoe with more breathability and elegant silhouettes. You'll see in a lot of the images of shoes from this time what looks like fixings for cleats, but these are actually just for toe plates. The pedals would still have had toe clips on.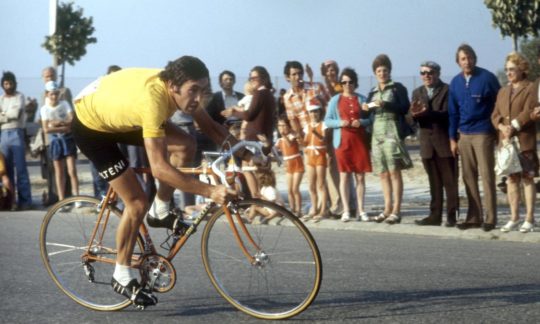 Real advancements came with the invention of plastic shoe cleats in 1971 by Cinelli that allowed for clipless pedals. Advancing that technology in 1984, Look applied downhill snow skiing binding tech to pedals, producing the first widely used clipless pedals. Bernard Hinault's victory in Tour de France in 1985 helped make their acceptance in the cycling community, although widespread use didn't come until the early 1990s.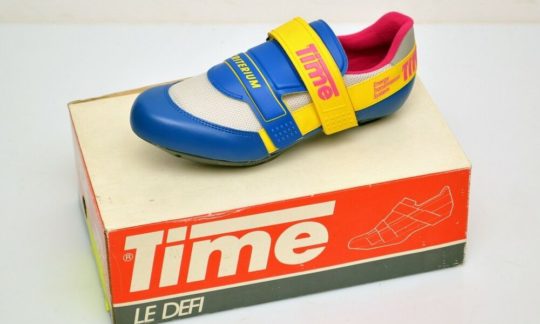 Whereas shoes had always been largely black or brown, the 1990s saw an explosion of colour and replacement to laces. Velcro bindings and ratchet systems became the new norm, saving time and effort and allowing you to adjust tightness on the bike. The boa lacing system, invented in the early part of the century for snowboarding and hiking, has added revolutionary fit to cycling shoes. We're used to seeing riders tighten their shoes ahead of a sprint now, imagine trying that with laces.

Stiffness and weight were the big advancements in the early 2000s, thanks largely to the advent of carbon soles — or at least soles that claimed to be carbon. Sidi's Hi-Tech Carbon Fiber Sole was actually principally made from nylon reinforced with 40% carbon fibre. The resulting sole was very light, very rigid in the key places and much more resistant to flexing. In the modern day truly carbon soles are the norm, providing the ultimate stiffness, lightness ventilation.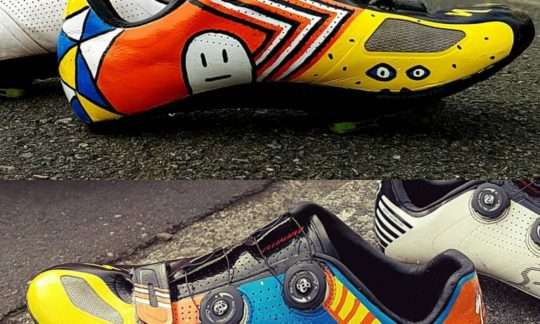 With technology at our finger tips and comfortable, high performance shoes available to all the latest trends centre around styling. Customisation of shoes by a talented community of artists has allowed people to display their own individualism — long gone are the simple black or brown leather shoes. Artists such as Velokicks, Gallus Baffies and the Shoe Dr have painted Shimano, S-Works and Mavic shoes to look like 1980s Eddy Merckx Adidas or 1990s Nike. This desire for retro may help to explain why Adidas have re-entered the market after a 15 year absence.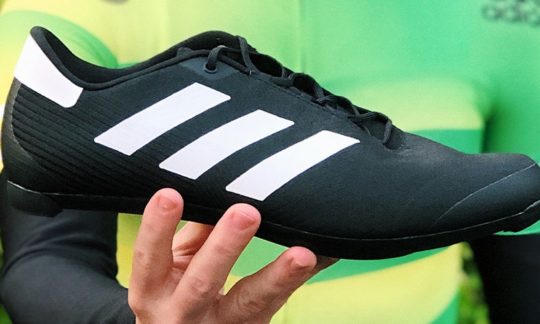 Named The Road Shoe, Adidas's new design sports the brand's iconic three stripes (now reflective) with a classic lace closure system. The shoe is made from a 100% recycled material, in place of leather and is available in white or classic black. With all the advancements in tech, colour and design it's interesting to see the old classics coming back. They always seem to.

What has been your favourite cycling shoe from your own past, do you favour simple black or white or are you more likely to go for a riot of colour?