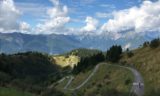 How To Prepare For The Mountains
There's nothing we like more at Thomson than settling for the long haul and weaving our way up the highest mountains cycling has to offer.
---
How To Prepare For The Mountains
With trips to the greatest climbs in Europe as well as those further afield in Colombia, we revel in the challenge and accomplishment of conquering the cols. But just how do you prepare for climbing the mountains?
We've teamed up with renowned endurance sports coaches CCNS to share some practical tips to help you prepare for the mountains and provide a strong foundation for the cycling season.
Setting The Scene
Each mountain range in Europe has it's only characteristic and within that each Col has a unique charm and challenge. Whilst the Pyrenees can't rival the Alps for sheer height, it can boast arguably more enjoyable climbing.

The Alps can boast some of the Tour de France's most iconic climbs, with Alpe d'Huez, Col du Telegraphe, Col du Galibier and Col d'Izoard featuring regularly. The climbs are long, often around 20km, and have steady gradients of 6/8% on average. The views are dramatic, thanks to the impressive altitude, which can sometimes make it tricky to decide what to wear! A fine day at the foot can turn very nasty at the peak.

The Pyrenees also boasts long climbs, but often not quite as steady with some nasty ramps with over 10% gradient. The greenery here marks it our from the rugged Alps, with H.C. climbs like Col du Tourmalet, Col d'Aubisque, Port de Bales, Col d'Aspin featuring in the Tour de France with some regularity.

Add to these the Vosges and the Massif Central and we have yet more personalities to add into the mix. With all this long, beautiful switchback madness to look forward to, how can we possibly prepare at home ahead of a trip to Europe? It's simple really, merely case of preparation, so let us help you to train for the mountains.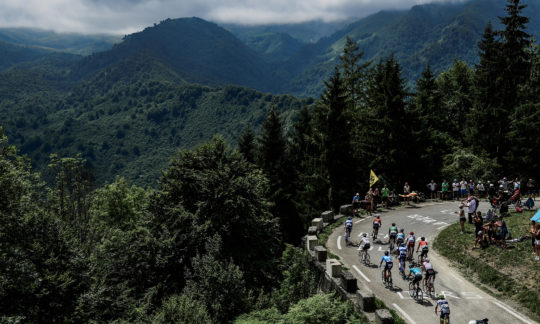 Don't Wait, Lose Weight
Putting it very simply, the less weight you have to carry up the mountain, the better! You can do this really easily by spending lots of money on a very light bike, then even more money on upgrading all the parts to be as light as possible. You can even refuse to carry water bottles to keep that weight down. We would strongly advise against that though! The most cost effective way and, if we're all honest, the best way to keep weight down is to look at yourself.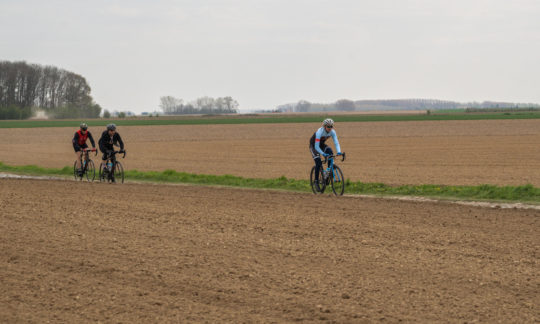 From Flat To Peak
Thankfully you don't have to prepare in the mountains to be good at riding mountains. In actual fact, the low intensity of freewheeling down hills is exactly what you want to avoid. The key to riding in the mountains is consistency in power and effort. The simplest way to train for this is often a flat road. If you can hold a good, solid power for 1 or 2 hours on the flat you'll be able to do the same uphill. When the road rises up you have to resist the temptation to up the power to keep the same speed. You want to aim to keep a consistent output of energy rather than a consistent pace.
Prepare for the Mountains with CCNS's Aidan Charles' Top 5 Tips
We have teamed up with CCNS to provide you with some great tips to help you prepare for the mountains. CCNS Head Coach Aidan Charles is one of the US's pre-eminent endurance sports coaches and has been supporting, leading and inspiring athletes to success for years. With a belief that true coaching focuses on the whole athlete; from goal-setting to diet, tactics, daily lifestyle choices, and of course, the training plan, CCNS have a proven track record of helping athletes of all abilities – from Gran Fondo PBs to UCI professionals.

The CCNS team lead our Colombia Training Camp, which is a great way to improve your mountain legs, but if you can't make it to Medellin why not follow Aidan's top five tips below —
Aerobic Efforts
Focus on long, "tempo" efforts, at a slightly lower cadence than usual to simulate climbing. Try 85-95% of your threshold power (or 90-95% of your Threshold Heart Rate), at a cadence of 70-80 rpm. If you don't have a power meter, try something with an RPE (rating of perceived exertion) of 7 out of 10, using one gear harder than you're used to. A great workout to start out with would be 2 x 20 min high tempo intervals, with 5 minutes rest in between. Add 5 minutes to each interval every week until you reach 2 x 45-minute efforts and you'll see gains for sure!
Endurance Rides
Make sure you do long and easy endurance rides. Since you'll be setting out on back-to-back days of epic riding, it is important to have the stamina necessary to get through the entire week. These longer endurance rides will teach your body to use fat as a fuel source, saving your carbohydrate stores for harder efforts. Make sure to keep these rides very easy, 60-75% of threshold power, or under a 5 on the RPE scale. Start out with at least 75 minute long rides at first and build up to 5 hours.
Fueling and Hydration
Throughout all these rides, it is important to fuel your body properly. As a general rule of thumb, for rides over 90 minutes in length, it is important to get 150+ calories and 10 ounces of water per every 100 calories consumed. If you can replenish a third of the calories you burn on the bike, you are doing a great job with nutrition. Remember that it takes time for your body to get accustomed to digesting fuel while on the bike. You need to train your gut just like you train your legs and lungs.
Recovery
After a long workout, it is important to replenish with the proper food and nutrients. A great habit to get into is weighing yourself before and after your ride. The amount of weight loss is the amount of water you need to drink. Follow the "16 ounces of water for every pound lost" rule to guide your specific needs. Make sure to fully re-hydrate before you eat any food.
Carbs (in moderation) Are Your Friend
Recovery meals should consist of a 4:1 ratio of carbohydrates to proteins. Carbohydrates are the body and brain's most important fuel for everyday function, and the predominant fuel for exercise. Thus, you don't want to limit the amount of carbs you're eating, both for your recovery meals and throughout the rest of your day.