Teide & Tears – Cycling The Canary Islands
---
There's a reason professional bike riders descend on this sun-kissed, volcanic archipelago for their annual winter training camps, and it isn't the abundance of golden beaches, nor its unique ecology and geology.
The Canary Islands, with their year-round sunny climate, high-altitude mountain climbs and exceptional cycling infrastructure, provide a perfect location for both amateurs and pros to hone their fitness for the season ahead. It's like somebody cleared the dinosaurs out of Jurassic Park, built a cyclist's utopia in their place and then plonked it down in the Atlantic just off Morocco.
Whether you're heading out to train for a big season goal, or just looking to get a week of well-earned, fair weather riding in the legs, look no further than the Canary Islands. We have two different itineraries in 'Las Canarias', both of which will have you following in the tyre tracks of Chris Froome and his Tour de France rivals.
As we've just opened up advanced booking for our winter tours with a 100% refundable $100 deposit, we thought it was the perfect time to recap exactly what you can expect on one of our Canarian tours.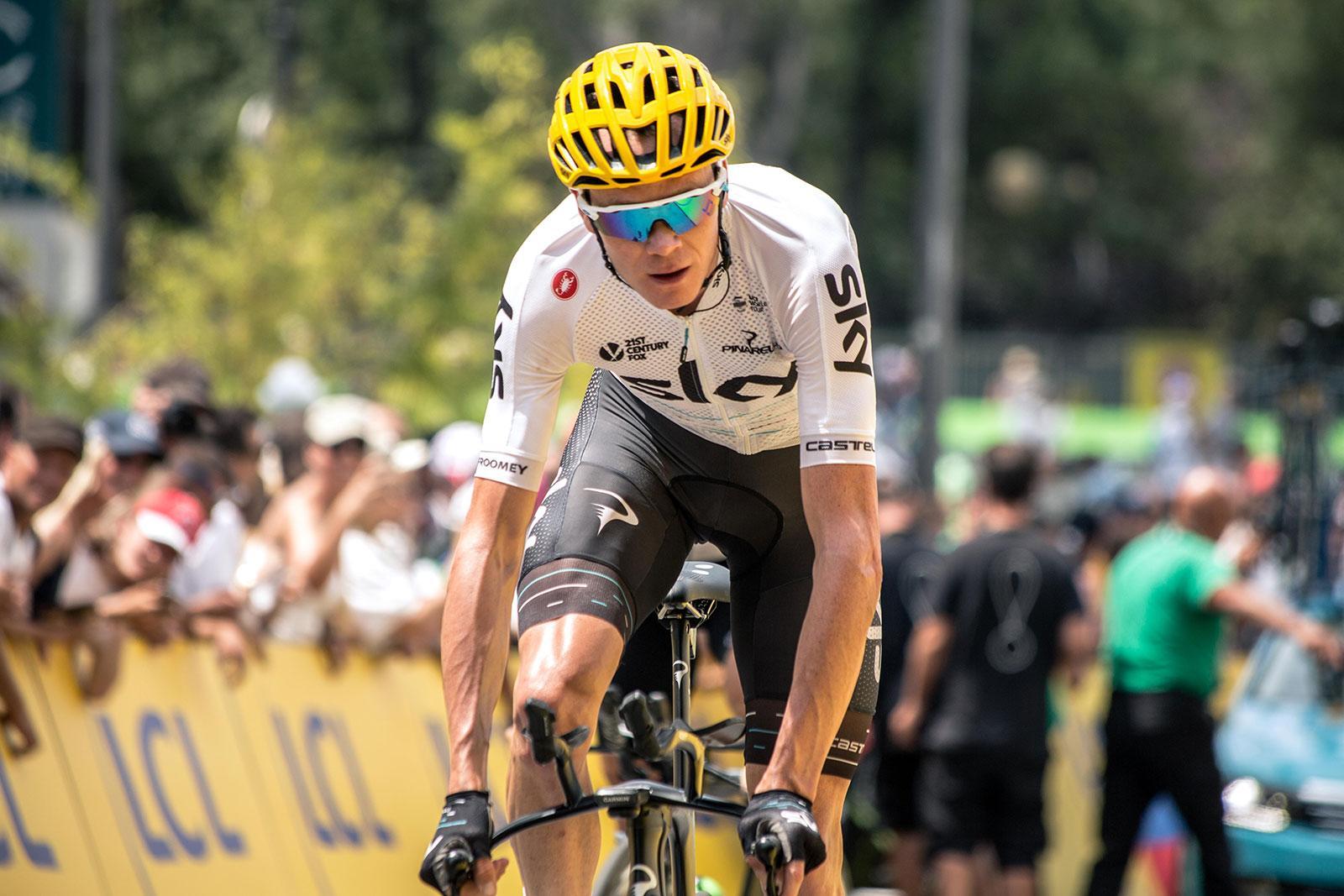 Gran Canaria – Tears before bedtime…
The Canaries' third largest island may only have a circumference of 235km, but within those confines lie hundreds of breath-taking roads and routes to discover – so many in fact, that not even a seven-day training camp will give you enough time to explore them all.
Our seven-day tour of Gran Canaria begins in Puerto de Mogán, a picturesque fishing village on the southwest coast of the island. This beautiful little resort is also the location of our hotel basecamp from which each of our seven rides start and finish.
Day one heads into the hills above Veneguera for a short, 49-kilometre warm up ride. The out and back route tackles close to 1,200m of elevation, introducing your legs to the kind of climbing they're due to face over the next week. Day two follows a classic route around the southern portion of the island, soaking up incredible, panoramic views of the famous Degollada de La Yegua canyon.
The serious climbing then begins in earnest on day three, the ride heading north from Puerto de Mogán and straight into the feared and fabled Valley of the Tears. Cyclists talk of gruelling 25% ramps in this valley, ramps that stretch for kilometre after kilometre. In all the day amounts to only 96km of riding, but over that distance you'll climb a giant 2,847m – enough to make even Grand Tour pros wince.
After the testing ramps on day three, day four offers a chance for recovery with a 64-kilometre foray up to Cruz San Antonio, before a long, sweeping descent back to the coast and the bustling town of Arguineguín. Day five throws you straight back into the action, with a long 108km ride to the centre of the island and the iconic Roque Nublo – a huge standing rock that acts as the island's sentinel, looking down to the ocean below from a height of 1,813m.
The climbing continues into day six where the elevation gain ramps up once more, this time you'll climb a total of 3,522m over 129km. The route passes through the start of the Valley of the Tears before circling around a lesser-known corner of the island. Be sure to have your camera ready on this ride, there are dramatic mountain views around every corner and mountain spur.
To draw this epic seven day training camp to a close, the final ride tackles the infamous Pico de las Nieves, a climb that tops out at 1,900m and marks the highest paved point on Gran Canaria. After climbing for more than 20km, you're duly rewarded with some fantastic views at the summit. On a clear day you can just about make out Tenerife's towering El Teide in the distance.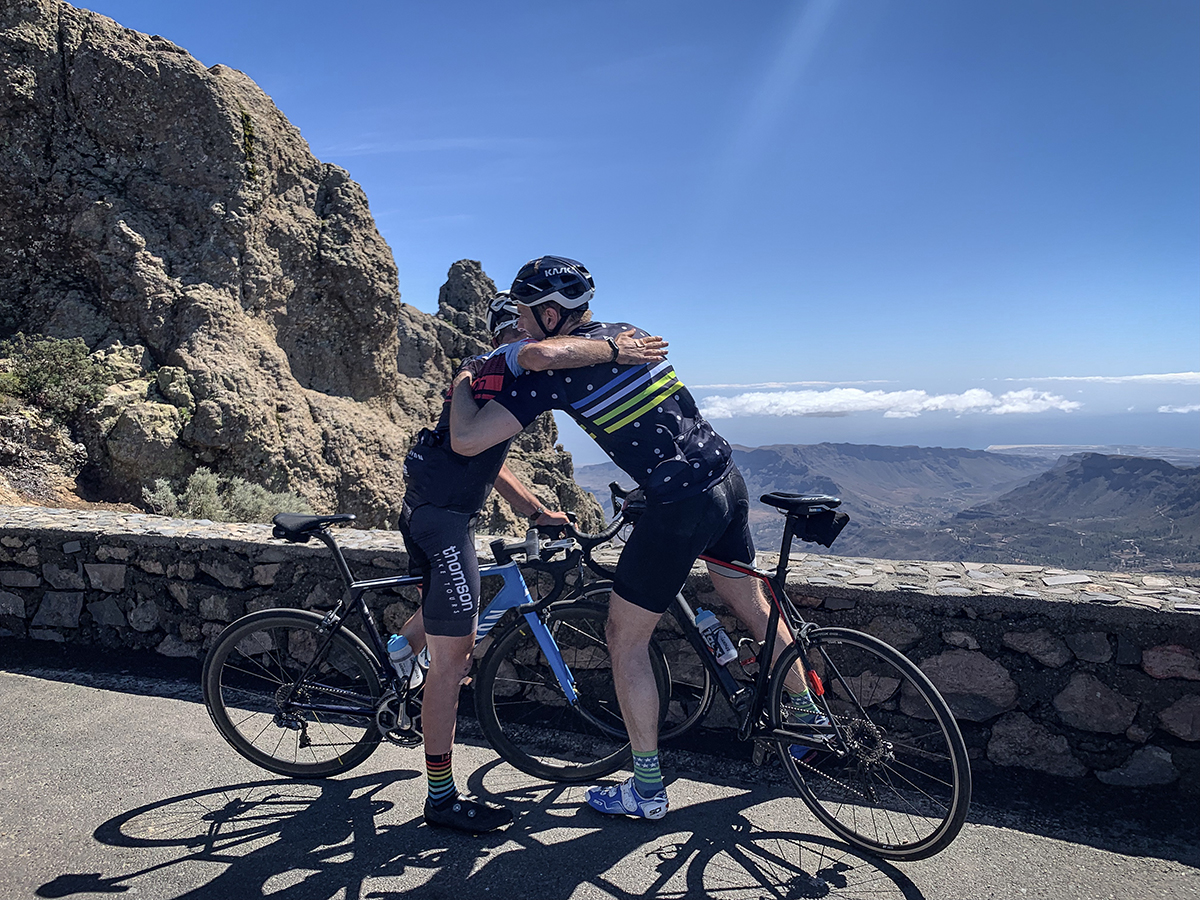 As you climb the Pico de las Nieves, be sure to look out for some recognisable faces. Rigoberto Uran's EF Education First squad is known to visit this part of Gran Canaria for their pre-season training camps. So too are riders from Rafal Majka's Bora – Hansgrohe and Primoz Roglic's Jumbo Visma teams.
After tackling 698km and 18,098m of climbing in total, you'll no doubt be exhausted by the end of the final day. What better way to reward yourself than joining us in the hotel bar for a few beers and maybe a cheeky mojito? You are on holiday after all.
Tenerife and La Gomera – Much more than Teide…
Lying to the west of Gran Canaria is the largest and most populated island of the seven Canary Islands, Tenerife. This island was made popular for bicycling in large part by Team Sky; all three of their Tour de France winners, Bradley Wiggins, Chris Froome and Geraint Thomas, started their race-winning seasons with a training camp on Tenerife.
The island is essentially one large volcano, so whichever way you head inland you'll be climbing. In fact, aside from skirting around the coast there are very few flat roads in sight, so make sure you bring your climbing legs!
Like the Gran Canaria training camp, the Tenerife and La Gomera camp is seven days long, tackling a very similar cumulative distance and elevation gain. Day one begins with a quick, 37km-long spin from our 5-star Palacio de Isora Hotel basecamp to the hills around Adeje and back.
Day two then throws you straight into the deep end with your first of two climbs up the famous El Teide. The ride starts from Los Gigantes and begins to climb just 4.5km in, following the mountain road for 50km, yes, 50km! The summit lies at just over 2,300m above sea level, the perfect height for some proper altitude training. If you're feeling strong enough, why not take on Chris Froome's KOM time up the mountain? We'll cheer you on all the way from the van!
After a brief café stop in Las Canadas, we retrace our steps back down the mountain, only this time whooping it up as we hit some crazy speeds down the long and straight descent.
There's a lot more to riding in Tenerife than just climbing El Teide again and again. That's why on day three we head through the valleys and over the clifftops that litter the landscapes around Masca and Teno. The route travels to the most westerly point of the island and visits the Punta de Teno lighthouse, the perfect spot to capture awesome photos of the Atlantic Ocean.
Day four gives your legs a chance to rest and recuperate with a short, 68km-long ride to El Tanque and back. There are still two large climbs to clamber over however, the HC Chirche and the Cat 2 Puerto de Erjos, before you can enjoy the long descent back to the hotel in Alcalá, so be sure to take it slow and enjoy the breath-taking views while you can.
On day five we head over to the neighbouring island of La Gomera, following the roads right into the centre of the island and the heart of the National Park that covers most of its area. The ferry crossing takes just under an hour, so we'll have almost a whole day to spend exploring this magnificent little island.
Day six sees us back on the main island, heading north towards Masca once again, this time from the opposite side up the long and gruelling climb of Santiago del Teide. We also climb the Puerto de Erjos again, this time from La Vega. Like on day four, day six finishes with a long and well-earned descent back to the hotel in Alcalá.
El Teide returns on the seventh and final day, this time climbing from the bustling town of Los Cristianos. The climb is a little longer from this direction, snaking its way up the flank of the colossal volcano for 56.6km. With six days of riding already in the legs, this climb up El Teide is going to hurt, and hurt real bad!
Thankfully, with every tortuous climb comes an equally rewarding descent, this one passing through Chío and Tamaimo as it snakes its way back to Alcalá to bring down the curtain on your Canarian camp.
The best of both worlds
Our Canary Island training camps experienced huge success in 2019, especially the seven-day tour of Tenerife and La Gomera. Our participants were often left speechless, not only from the spectacular mountain passes that we climbed over, but after meeting many of the world's best pro cyclists along the way.
The Canary Islands are a true cycling hotspot, but which destination do you choose – Gran Canaria or Tenerife and La Gomera? Thankfully, in 2020 you won't be faced with such a tough choice as we'll be offering both itineraries in concurrent weeks, to let you combine them both.
---
Are you interested in a fair weather training camp in one of the world's best cycling destinations? Click here to take a detailed look at the Grand Canaria or Tenerife and La Gomera training camps, including the full routes, the dates and the prices. Advance reservations are now open for 2020 with a $100 refundable deposit, so be sure to book quickly before all the places run out, this is a camp you won't want to miss!
---