Trans-Pyrenees Challenge: If It Were Easier, It Wouldn't Be So Much Fun.
---
Conquer the Pyrenees from the Mediterranean Sea to the Atlantic Ocean, along the spine of the French/Spanish border. But between the two coasts lies one of the most challenging routes in the Thomson playbook: that means eight days of classic Tour de France (and one Vuelta) climbs combined with spectacular Trans-Pyrenees scenery and lodging, plus genuine cowbells, and a celebratory dip in the Atlantic.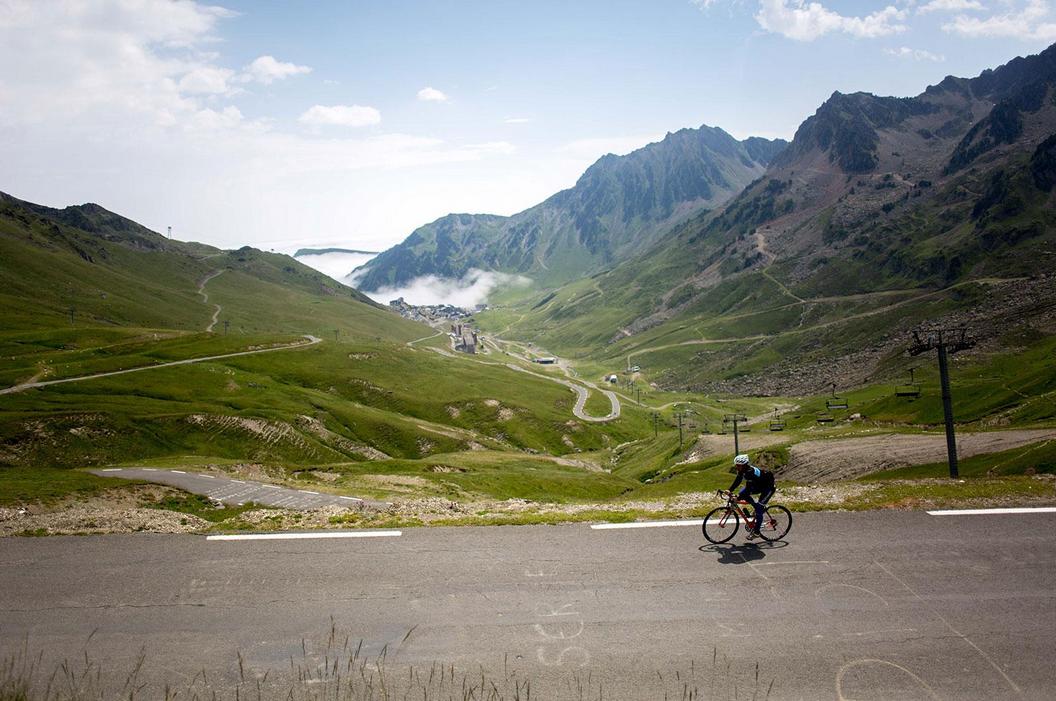 Ride Where the Pros Ride…
"This was our fourth trip with Thomson and another phenomenal week of cycling. If you like suffering, there is no one that does it better than Peter and his superb crew. They are, by far, the best in the business."
–Michael Berry, USA
The Pyrenees are one of Europe's most celebrated cycling terrains. So TBT's Trans-Pyrenees Challenge begins appropriately, in the renowned city (and cycling hub) of Girona, home and training base to dozens of pro riders.
From Girona we follow the sun, crossing into the Pyrenees from east to west and conquering iconic Tour de France climbs like the Col du Tourmalet, Col d'Aubisque, Col d'Aspin, Col de Peyresourde and Port de Pailheres, among others. In total,the Trans-Pyrenees offers more than 22,000 meters of elevation in a thousand kilometers of riding.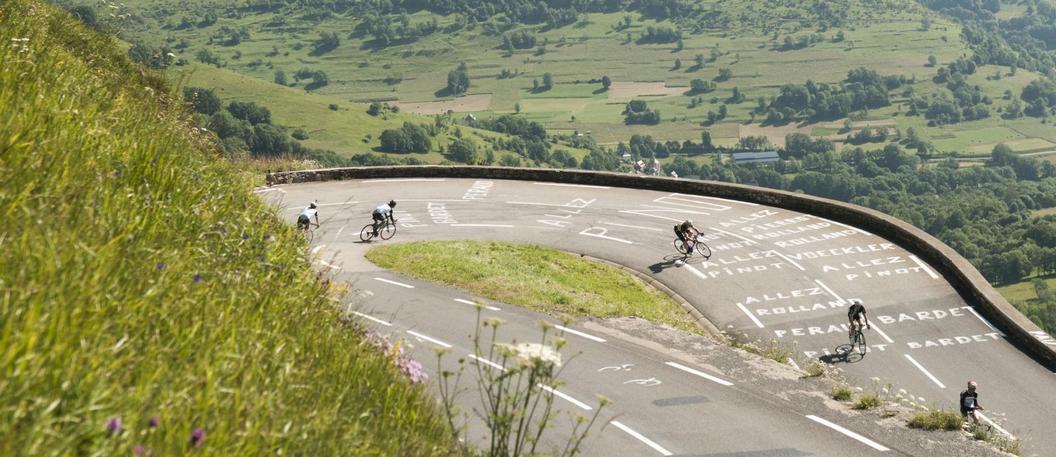 … And Where the Legends Rode.
The best-supported ride I have ever been on. The ride leaders and support staff were as colorful as the countryside. Thank you for a once in a lifetime experience.
–Scott Sanchez, USA
Along the way, you'll follow the tire tracks of a century-plus of cycling legends past and present, beginning with the famous Els Angels climb. (You can guess what the American and Aussie riders call it, and you'd be right.) From there we go through the Spanish Pyrenees, across the border into France and visit many of the famous HC climbs of the Tour de France.
Finally, you'll tackle possibly the most challenging climb of the entire trip– up the Hors-Categorie Col de Bagargui, and the descent to our terminus in San Sebastián for a well-earned splash in the Atlantic.
The Pyrenees. Breathtaking In More Ways than One.
"I have gone on 4 different European cycling trips with 4 different companies. Thomson from now on. While all were great trips the support Thomson provides is a step above. See you next year."
–Jerris Bradley, USA