Rental bike
OPEN Gravel
---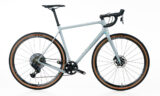 ---
Specification
TBD
Frame
Open UP / WI.DE or similar
Groupset
SRAM Force, Shimano GRX 810 or similar
Weight
8.6kg (size 54)
Wheels
DT Swiss GR 1600 or similar
Chainrings
38 or 40
Cassette
10-42 or 10-50
Sizes
44(XS), 47(S), 50(M), 52(L), 56(XL)
---
Rental Fee From
USD $500
Optional Insurance
Our optional insurance policy offers you the possibility to insure your rental bike against theft or damage caused by accident. Unless you have coverage through other insurances (home-owners, travel insurance etc.), we recommend you insure the rental bike through our insurance policy.
The Insurance Covers
— Damage or breakage to the bike frame or components
— Theft or loss of the bike
The Insurance Does Not Cover
— A replacement bike (or components) in the case of irreparable damage
— Third party liability, medical costs, and any other costs that result from damage to the rental bike or theft/loss of the rental bike
A deductible of USD $250 will be applied.
---
Rental Insurance Fee From
USD $75
Why we have chosen this bike
TBD
---
Rental bike Fleet
Take a look at the other bikes available in our high-end rental bike fleet
---