Rental bike
Felt Breed 20
---
Overview
Classic road bike manners, but loves to get dirty. Dual-wheel compatibility, plenty of storage options, and massive tire clearance makes for unparalleled versatility for any adventure. Felt created the Breed to chase the sunset across empty gravel roads, to discover a new perspective along local trails and to further expand the incredible freedom a bicycle can offer. So whether you're just discovering a new way of riding, or are a dyed-in-the-wool gravel grinding veteran, the Breed is for you.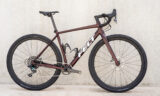 ---
Specification
The 11-speed 1x drivetrain features a 38T chainring and an 11-42 cassette to help you on the toughest of terrain. With powerful SRAM Force 1 hydraulic disc brakes you'll have no trouble stopping too!
Frame
Felt Breed 20
Groupset
SRAM Force 1
Weight
9.35kg (size 54)
Wheels
Devox Wheels RDS.A0 GXA | 30/21
Chainrings
36 or 38 (depending on trip)
Cassette
11-42
Sizes
47, 51, 54, 56, 58, 61
---
Rental Fee From
USD $500
Optional Insurance
Our optional insurance policy offers you the possibility to insure your rental bike against theft or damage caused by accident. Unless you have coverage through other insurances (home-owners, travel insurance etc.), we recommend you insure the rental bike through our insurance policy.
The Insurance Covers
— Damage or breakage to the bike frame or components
— Theft or loss of the bike
The Insurance Does Not Cover
— A replacement bike (or components) in the case of irreparable damage
— Third party liability, medical costs, and any other costs that result from damage to the rental bike or theft/loss of the rental bike
A deductible of USD $250 will be applied.
---
Rental Insurance Fee From
USD $75
Why we have chosen this bike
Felt are devoted to creating the finest cycling experience in the world because they love nothing more than bikes and what they can bring to the human experience. This belief aligns very much with our own, making a partnership a perfect fit. Felt bikes have been ridden to stage wins at all of the Grand Tours, record-breaking triathlon world titles, Olympic gold medals, and world championships on the road, trail, track, and cyclocross racecourse. Belying this success, Felt Bicycles remains a relatively small operation in Southern California, committed to its core guiding principles and the passionate riders were serve.
---
Rental bike Fleet
Take a look at the other bikes available in our high-end rental bike fleet
---