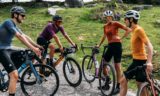 Sportful
With an eye for style and a passion for innovation, we are proud to have Sportful as our apparel partner.
Sportful are technical supplier of clothing for some of the biggest names in cycling – in the past as supplier to Mapei & Team Italia, to the current partnership with Bora Hansgrohe. Innovation & design has always been key to Sportful's products, something clearly demonstrated by the success of their athletes over the past 40 years.
---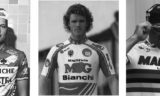 Olindo & Irma Cremonese, from Asolo in Italy moved to the foothills of the Dolomites in 1946 to build a business - initially shearing, carding & spinning wool yarn. Eventually the business evolved - producing quality underwear in the late 1960s under the name Manifattura Valcismon.

Sportful's story really starts in 1972 when their son, Giordano Cremonese, became intrigued by the challenge of the new Marcialonga cross-country ski race- taking place near his home. Though he was a keen cross country skier & athlete in general, he felt that the clothes available at the time were inadequate for such a long race in a cold valley. He set about producing some of his own designs using Acrylic fabrics that were state of the art at the time, the finishing touch on the garments was the 'Sportful' logo to highlight their design & purpose.

On a cold January morning in Val di Fiemme, Giordano lined up with the hundreds of other skiers & took on the tough course with his bright orange suit designed to keep him warm & comfortable for the 70km race. His unique clothing received many compliments & enquiries - he realized that there must be a demand for quality clothing designed specifically for the sport. By 1973 Sportful was officially up & running with orders coming in from across the Dolomites for his unique specialist cross-country clothing.

In 1985 with a solid reputation for ski wear, the Sportful brand followed Dr. Cremonese's other sporting passion & began to develop clothing for cycling, using it's knowledge gained from designing apparel to perform comfortably in changing conditions. The brand was well received in the cycling community, with teams such as Ceramiche Ariostea, Maglificio Bianchi using Sportful. Within a few years was in use by possibly the most successful team of all time – Mapei & then later the honour of clothing the Italian National team who won 6 World Championships and 1 Olympic title in Sportful.

Sportful, like Thomson Bike Tours, have a passion for mountains. Whether we ski, cycle, hike or climb they are extremely lucky to have the spectacular playground of the Dolomites on their doorstep and take every opportunity to make the most of them. In 2007 Sportful drew from it's love for the mountains, creating the Karpos outdoor clothing line, a range of technical product designed to perform in alpine environments.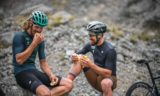 Innovation & design has always been key to Sportful's products